FREE DVD or CD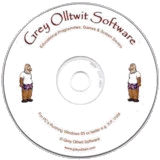 Testimonials
100% Genuine Feedback

Hi Grey, Thanks to you and your programs my son Joshua now 17 has topped his college for the last 5 years in Maths, Physics, Chemistry & Biology and is headed to University to do a Bachelor of Science degree next month. It was the grounding back in those early days using your programs that helped him understand the basics of maths.
Chrissie, New Zealand

Just a quick note of appreciation. I'm using your software for a student I teach who has many learning difficulties, but he is thrilled (and motivated) to be working with your educational games. Please continue the excellent work, and best of luck going forward.
Ed, Canada.

I have been using your educational games for years now and am really glad for a chance to say how FAB they are. They are better than any other I've found for educational purposes and a fraction of the price. All the kids who have used them at my school LOVE them and I think you are a very very clever man!!
Trisha , UK



More testimonials...




FREE DVD!!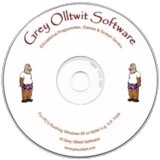 Educational Games

For the latest educational games visit Grey Olltwit's new dedicated site go-educational-games.com

Whilst my educational programs have been made for specific subjects, there is an educational purpose behind all of my games below. I made them to help with improving skills such as fine motor skills, manual dexterity, hand to eye co-ordination, memory, estimating angles, learning to use the mouse etc.

Research has shown that a child with weak fine motor skills may struggle when learning to form letters and beginning to write. Consequently weaknesses in fine motor skills and manual dexterity may cause problems for children in school. So on the surface, the following games may look as though the player is just having fun, when in fact they are learning through play.
| | |
| --- | --- |
| | Bowling - Our Ten Pin bowling game helps with eye hand co-ordination in allowing the player to calculate the best time to release the bowling ball and skill in determining if any 'spin' is required. |
| | Hangman - Traditional educational game, proven to help with vocabulary building and general word skills. Over 700 words/phrases included in several categories. |
| | Air Hockey - Help in calculating angles and trajectories in this fast action air hockey game |
| | GO Karts - Improve and maintain manual dexterity and fine motor skills with our Go Kart racing game |
| | Tom & Jerry - Trying to catch Jerry in this game means reacting quickly to obstacles that appear and avoiding them or facing the consequences |
| | Crazy Golf - Speed of reaction is not required in this fun, beach holiday style, 9 hole golf game. Careful calculation of direction and speed of putt is required to get the lowest score on each hole. Not as much fun as driving around in a custom golf cart but almost! |
| | Rally Cross - Rally Cross helps to improve fine motor skills and manual dexterity when racing against the clock around a circuit. Logic and planning skills are also helped in building your own circuits. |
| | Marble Solitaire - Move the marbles and reduce their number to the minimum in this solitaire educational game that develops forward thinking and strategy skills. |
| | Dinosaur Hunt - Track down dinosaur fossils around the world in this educational game that helps to improve memory, logical thinking and problem solving skills. |
| | Darts - Manual dexterity and strategic planning are improved in this good old fashioned darts game. |
| | Marble Buster - A breakout style game to help with calculating angles and trajectory. |
| | Simon - Random lights educational game that helps to broaden your memory and improve logical thinking skills. |
| | Simanji - Granny Olltwit in a game, loosely based on the film Jumanji, where problem solving, quick reactions and logical thinking skills are required to master all the levels. |
| | Clock Face - A solitaire card game to help with learning to tell the time |
| | Keep Your Cool - An educational game to help with combating stress at work or school |
& Many, Many, More....
Join Now To Download All These And All Our Future Programs
All the programs on this site are originals made by Grey Olltwit Software. They are for PC Windows '95 or above e.g. XP, Vista, 7. For more information please see the Help file.
GUARANTEED 100% CLEAN
Grey Olltwit Programs DO NOT Contain Adware, Spyware, Viruses, Toolbars Or Any Other Third Party Software
Grey Olltwit's Software Home Page
Use this great ielts speaking vocabulary to boost you score. Many persons prefer san jose project training class with qualified teachers.
FREE DVD or CD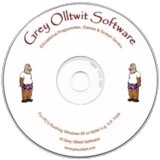 Testimonials
100% Genuine Feedback

I have been using the software I downloaded almost every day and the way your software brightens up the kids' faces each morning makes our day so much easier. Thank you for the wonderful work you are doing.
FC, South Africa

We got your DVD and its fab! Many thanks.
Lorrane, Scotland

I'd just like to say a great big "Thank You!!!!" to you for all of the great stuff on your site! I'm the caregiver for my developmentally challenged sister, and an extremely satisfied member of your site as well. The programs that you create, and provide not only educate, but entertain as well, without condescending to children, a very rare accomplishment in today's commercial software market! Keep up the awesome work!
Kevin, London, Ontario


More testimonials...
FREE DVD!!